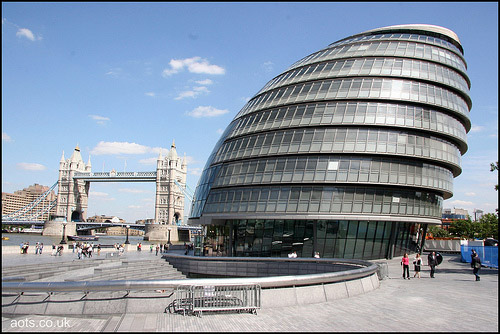 Back in January I read this -
http://thebigblowdown.blogspot.com/2006/01/fantastic-day.html
(try as I might I can not get the link to work...I thought I had finally got linking sussed but obviously not) -about a walk a man from South London had made, which for very personal reasons made me incredibly happy.
Today, a beautiful sunny morning in London, I made that same walk in reverse with the man who wrote that piece the day after we had met each other for only the second time.
The views along the Thames are incredible. Where we walked, not five years ago was one derelict warehouse after another, but is now full of wonderful modern buildings like this one (The London City Hall) and VERY expensive looking apartments ( I want one!!!!). I saw some of my very favourite places in the city like the Tower of London, Tower Bridge and the sensational Gherkin. And all of it was great enough to make you feel really good and proud of London. However, like he said in January, it wasn't the views that put a spring in my step but it was the person I was with who I love very very much, and who I only met because of blogging.